My contact information
I already have a HelloAsso account:
* Required fields
My summary
Selection
Donation
Donation
0 €
Your contribution to HelloAsso

-

0 €
Total
0 €
HelloAsso is a social and solidarity company, which provides its payment technologies to the organization for free Association Bzzz . A contribution to the functioning of HelloAsso, modifiable and optional, will be proposed to you before the validation of your payment.
100% secure payment platform
All banking information to process this payment is completely secure. Thanks to SSL encryption of your banking data, you are assured of the reliability of your transactions on HelloAsso.
La mission de 1% for the Planet
La protection de l'environnement est le « parent pauvre » de la philanthropie ne représentant que 3% des sommes concernées par le mécénat. Et pourtant les problèmes environnementaux auxquels nous faisons et allons faire face sont immenses. La mission du 1% est d'augmenter la philanthropie environnementale et d'augmenter l'impact de terrain des actions menées par les associations de protection de l'environnement en facilitant leur recherche de fonds.
Les associations agréées 1% for the Planet
Les associations agréées 1% for the Planet sont visibles sur notre site onepercentfortheplanet.org. Elles ont toutes été vérifiées comme étant des associations à but non lucratif, à la mission principalement de protection de l'environnement, à la gouvernance et au budget sains.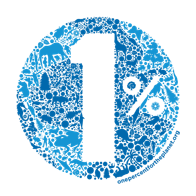 Gestion de vos coordonnées
Vos coordonnées ne seront transmises à aucun tiers.