Nuevo Elegance Experience
From 12 to 15 août 2023, starting from 11h
NUEVO ELEGANCE EXPERIENCE Elvira Lambo & El Gato Nadtochi Morbihan Tango Weekend, France 2023, August 12-15 Private Classes Day, 13 Workshops Nuevo Method, 2 Apéro concerts, 2 Milongas Shows, Music Live, 3 DJ+VJ, Bar-Empanadas, Expo El Gato Aldo Ripoche, violoncelle Camille Privat, accordéon chromatique Christine, Kimy, Elodie : 3 DJ Women Team France PROGRAMME TARIFS sous la billetterie SCHEDULE PRICES under ticketing list CONTACT : André Forner contact@tango-sarzeau.fr  +33 (0)632581469
Event is over!
For more information, please contact the organizing association
View the page
***
............................WHERE ?........................... OÙ ?..........................
Salle des fêtes de Brillac : https://goo.gl/maps/wuykVJLeiC5Man65A
Google Maps=G5RH+V6 Sarzeau
GPS 47.54230, -2.82207
Airport Nantes Atlantique /
Train : Gare SNCF de Vannes. (BUS Kicéo Ligne 24)
https://www.sncf-connect.com/ (pour acheter son billet de train)
https://www.sncf-connect.com/en-en/ (english version to book train in France)
PROGRAMME TARIFS
FRENCH VERSION (english below)
HEBERGEMENT ET COVOITURAGE / Voir aussi à la une du groupe FB : TANGO ARGENTIN MORBIHAN

NUEVO ELEGANCE EXPERIENCE
Le Tango Nuevo peut-il être une expérience libératrice ? Vous aimeriez danser sur une musique autre que l'âge d'or traditionnel et pouvoir vous exprimer avec le partenaire en utilisant un vocabulaire de danse complet ?
Peut-on garder l'élégance associée au Tango argentin et danser avec style et bon goût ?
Pourquoi pas ?
Nous emmenons nos étudiants dans le voyage en partant des concepts de base et en enseignant vers des figures et des mouvements sophistiqués !
L'objectif est de maîtriser certaines des idées de Tango Nuevo grâce à la compréhension de la technique et des principes de connexion.
Quels sont les blocs de construction ?
STRUCTURE, ÉTREINTE FLEXIBLE, DÉPLACEMENT DANS L'OPPOSITION, CHANGEMENT DE DIRECTION, COMPRESSION ET EXPANSION
Quels sont les mouvements typiques ?
COLGADA, BARRIDA, VOLCADA, DOUBLE FRENTE, FIGURES ELASTIQUE et bien sûr ENGANCHES
Nous étudierons ces éléments depuis les blocs de construction jusqu'à la composition des figures, en les mélangeant de manière logique et magistrale et plus tard en pratiquant soigneusement les milongas non traditionnelles…
'The Nuevo Method I' est un cours breveté créé par Michael Nadtochi & Elvira Lambo pour vous aider à apprendre le Tango Nuevo en utilisant un simple tutoriel organisé étape par étape.
Pendant le week-end, nous suivrons un système qui vous permettra de vous rafraîchir ou d'apprendre les bases mêmes du système ainsi que d'améliorer votre vocabulaire Tango Nuevo.
Les personnes inscrites à TOUS LES COURS (FULL PASS) du week-end recevront un accès GRATUIT (complémentaire) à la partie I de la méthode Nuevo en ligne sur le site Web de THE ART OF TANGO.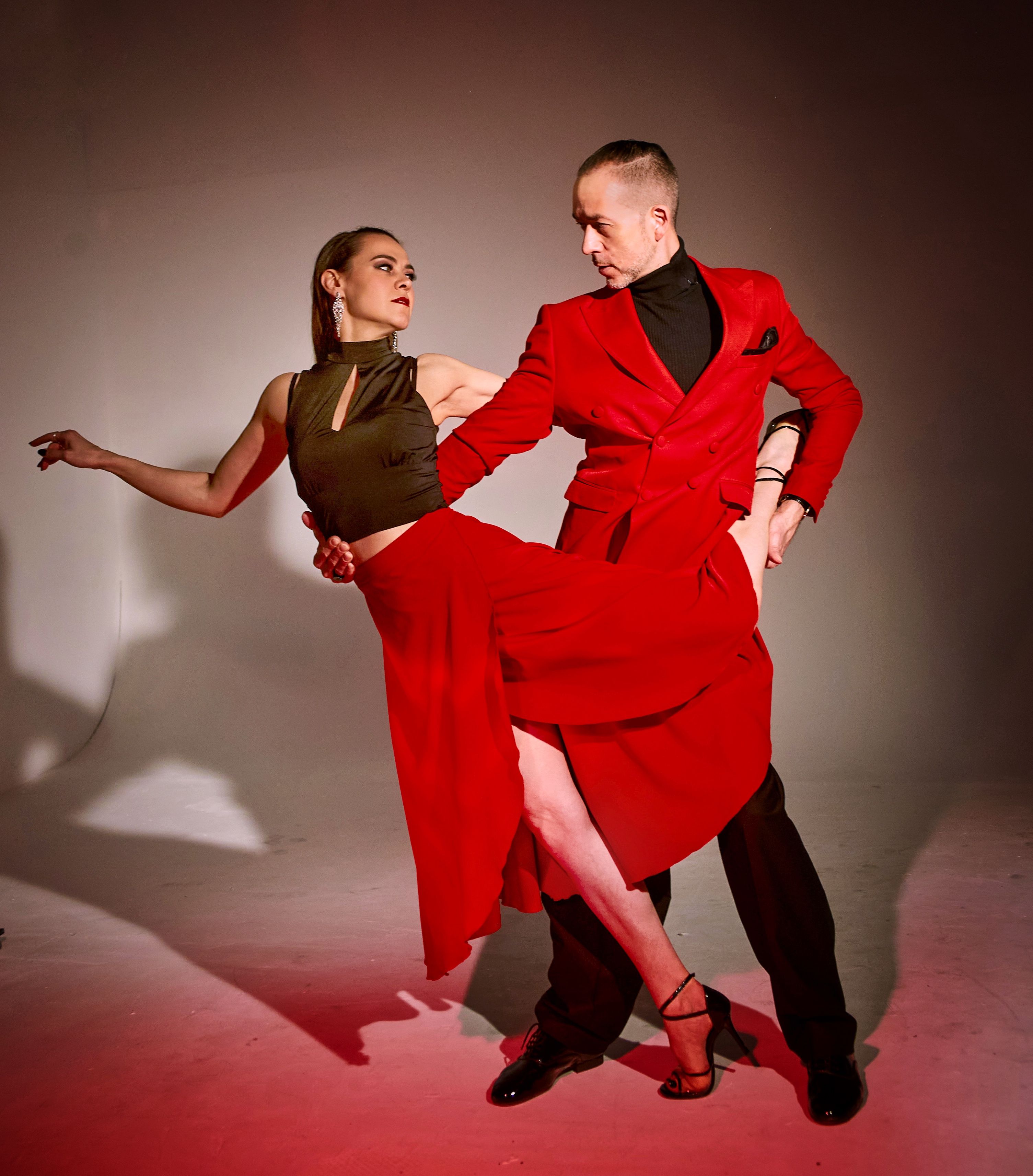 SCHEDULE PRICES
ENGLISH VERSION
ACCOMMODATIONS / see also post "à la une" on FB Group TANGO ARGENTIN MORBIHAN

NUEVO ELEGANCE EXPERIENCE
Can Tango Nuevo be a liberating experience? Would you like to dance to a music other than traditional golden era and be able to express yourself with the partner using a complete dance vocabulary?
Can we keep the elegance that is associated with Argentine Tango and dance with style and good taste?
Why not?
We are taking our students on the journey starting from the core concepts and teaching towards sophisticates figures and moves!
The goal is to achieve a mastery of some of the Tango Nuevo ideas through the understanding of technique and connection principles.
What are the building blocks?
STRUCTURE, FLEXIBLE EMBRACE, MOVING IN OPPOSITION, CHANGING DIRECTIONS, COMPRESSION & EXPANSION
What are the typical moves?
COLGADA, BARRIDA, VOLCADA, DOUBLE FRENTE, ELASTIC FIGURES and of course ENGANCHES
We will study those elements from the building blocks to composing figures, mixing it up in a logical and masterful way and later on practicing carefully at the non traditional milongas…
'The Nuevo Method I' is a patented course created by Michael Nadtochi & Elvira Lambo to help you learn Tango Nuevo using simple step by step organised tutorial.
During the weekend we will follow a system that will allow you to refresh or learn the very foundation of the system as well as improve your Tango Nuevo vocabulary.
Who registered for ALL OF THE CLASSES (FULL PASS) of the weekend will get a FREE (complimentary) access to The Nuevo Method part I online on THE ART OF TANGO website.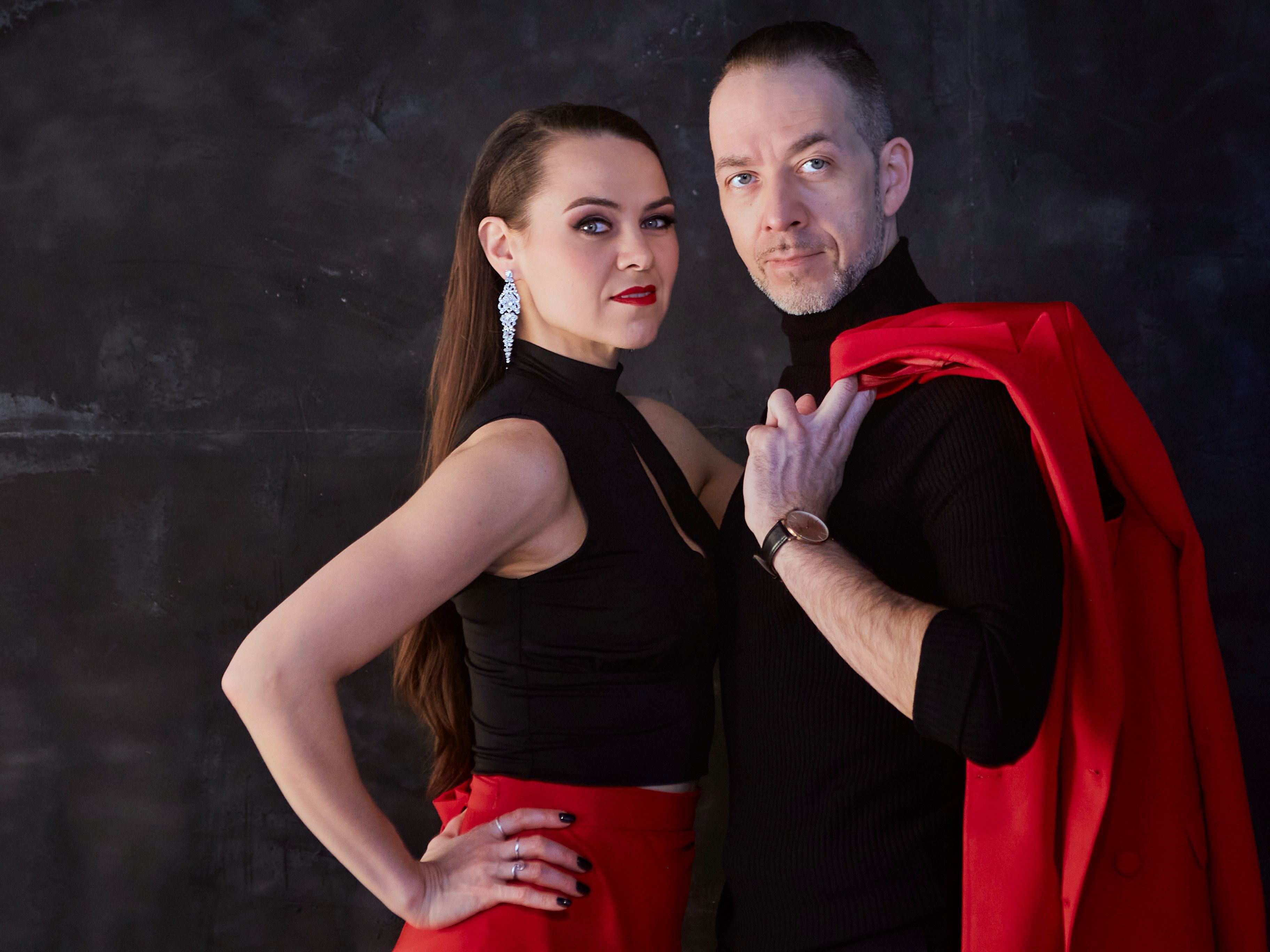 Règlement : (rules, normas)
En cas de désistement pour toute raison que ce soit, la somme versée à l'inscription vous est intégralement conservée et constitue un "avoir" pour une utilisation lors d'un prochain événement.
Seul cas de remboursement possible : raison médicale grave et imprévue (opération, hospitalisation) sur présentation d'un certificat médical au plus tard une semaine avant le début de l'événement (remboursement moins les frais de dossier d'inscription 30€).
English. In the event of withdrawal for any reason, the amount paid at registration is fully preserved to you and constitutes a "having" for use during a future event.
Only possible reimbursement case: serious and unforeseen medical reason (operation, hospitalization) upon presentation of a medical certificate no later than a week before the start of the event (reimbursement less registration fees 30€).
Español. En caso de retiro por cualquier motivo, el monto pagado en el registro se conserva por completo para usted y constituye un "tener" para su uso durante un evento futuro.
Solo un posible caso de reembolso: razón médica grave e imprevista (operación, hospitalización) tras la presentación de un certificado médico a más tardar una semana antes del inicio del evento (reembolso menos tarifas de registro 30€).
Salle des fêtes de Brillac
Rue Saint Maur
56370 Sarzeau
France
A question?
Contact the association:
100% secure payment platform
All banking information to process this payment is completely secure. Thanks to SSL encryption of your banking data, you are assured of the reliability of your transactions on HelloAsso.